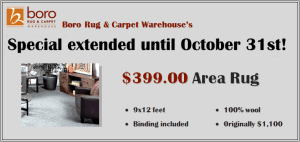 9×12 foot area rug on sale at Brooklyn carpet warehouse
Area rug bargains in Brooklyn: 9×12 100% wool remnants (limited quantities in stock; select styles only) are on sale until October 31, 2014. These rugs are just $399 (originally $1,100), and they come already bound. They'll fit perfectly into your living room seating area or master bedroom.
This is just a sample of the many special prices you'll find when you brouse our remnants, area rugs, and carpet bargains at our Borough Park warehouse.
Bonus! 

Sign up for our monthly newsletter

and get a free 3×5 carpet remnant.
About carpet remnants
Carpet remnants offer such a tremendous value to carpet shoppers, and no one in Brooklyn does remnants like Boro Rug & Carpet Warehouse. Make that no one in the five boroughs.
If you don't know about the hidden value of carpet remnants, it goes like this: sometimes there are huge leftover rolls of carpet from big jobs. These remnants are often big enough to carpet rooms—and in some cases entire houses. But, as remnants, they cost a whole lot less. We buy remnants by the big, beautiful roll-ful. We have aisle after aisle of them, organized neatly and just waiting for you to discover them in all their jaw-dropping glory.
Going the remnant route can save you from 50-75% of the cost of installed carpet. And there's no drawback to buying remnants whatsoever. They're new, they're unused—and they're a deal that's just sitting here at Boro Rug & Carpet Warehouse waiting for you to take home.
Our remnants run the gamut from traditional to modern and indoor-outdoor to plush & shaggy. We have 1000s of yards on hand at any given time. We buy the best and constantly refresh our stock. Just give us the color and size you're looking for and we'll walk you through your options. We know our stock, so you don't have to wander aimlessly.